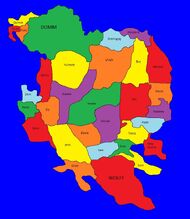 The Nethereigons is the largest Continent on
Ukhafland
, And the most densley populated as well. It was discovered in
3,135BDW by
Nullish Explorer,
Grenggog Recador
.

Climate
The Nethereigons has an extremely diverse climate depending on what area you are at. In the far north, There are tall mountains of ice and constant snowfall, but in the Southernmost reagons, It is humid and fertile the whole year round. Other interesting temperature Climates include the Uliah Province, where there are truly four seasons, and the Dovia Province, where the weather changes at total random for no apparent reason whatsoever.
Provinces
The Nethereigons was first divided into provinces by Ittle Hangare in 88,004BDW. At first, there were twenty-six provinces. That number later grew to thirty one, including:
Ad blocker interference detected!
Wikia is a free-to-use site that makes money from advertising. We have a modified experience for viewers using ad blockers

Wikia is not accessible if you've made further modifications. Remove the custom ad blocker rule(s) and the page will load as expected.